Chain necklaces and bracelets come in a variety of designs to suit every taste. Gold or silver is just the first decision you have to make if you want a gold chain necklace or silver chain bracelet. The following is a description of some of the most popular chain styles:
Curb Chains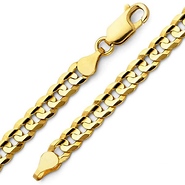 A curb chain is a chain in which the links interlock and lie flat. Curb chains can come in a variety of widths, and their links are generally uniform in size. Click here to see our Curb Chain collection.


Figaro Chains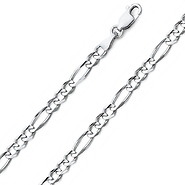 A Figaro chain is a chain that is designed with several small round links interspersed with one long oval link. This style of chain originated in Italy, and Figaro chains are frequently used for men's jewelry. Click here to see our Figaro Chain collection.


Mariner Chains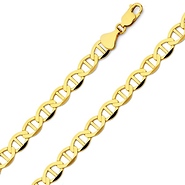 Mariner chains are similar to Figaro chains, but they alternate a single, small, round link with a larger oval link. They resemble the chains attached to an anchor on boats, hence its name. This style of chain is popular for id bracelets, any jewelry with nautical themes, and unisex style jewelry. Click here to see our Mariner Chain collection.


Rope Chains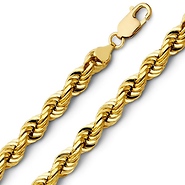 Rope chains are chains where small links are manipulated to avoid calling attention to their appearance; instead, they are linked in a twisted pattern to resemble a genuine rope. Rope chains come in both delicate versions where they are a popular choice for pendant necklaces, and heavier versions where the chain itself is the main attraction. Click here to see our Rope Chain collection.


Snake Chains

Rather than visible links, snake chains are made up of rings which fit together closely, making a chain with an appearance of a flexible tube with the texture of snakeskin. Snake chains are usually narrow and delicate. Click here to see our Snake Chain collection.


Box Chains


Box chains have squared off links rather than rounded links, giving the chain a boxy appearance. Thinner versions of box chains are popular for women's jewelry and often paired up with pendants. Click here to see our Box Chain collection.


Link Chains

Link chains are made with individual links of the same shape with an open middle section, interlocking in alternating directions, so the shape of the link stands out. Common link shapes are round links or oval links, and link chains can be delicate or heavier depending upon your taste. Click here to see our Link Chain collection.


Fancy Chains


Fancy chains are chains with unique link patterns that do not fit any of the above descriptions. Some popular examples of fancy chains include Byzantine chains, Franco chains, and bar chains. Click here to see our Fancy Chain collection.


***
If you have any questions about jewelry, call Customer Service toll free at (888) 223-7056. We are open from Monday - Friday, 10am - 4pm PT. We'll be glad to help.