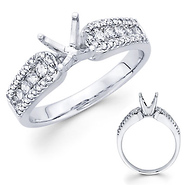 Engagement ring settings refer to the metal that supports the diamond or other precious stone in engagement rings. While consumers often focus a lot of attention on the diamond, the setting can make a big difference in the appearance of the ring as well.
Engagement ring settings should be chosen to match the style of the stone. Some cuts go better with simple settings, while other cuts lend themselves to elaborate designs featuring multi-colors or accent stones.
We carry engagement ring settings at below retail prices, in white gold, yellow gold, platinum, and other metals.